Back To News
May 24, 2022
SynchroGrid Hires Senior Design Engineer for Denver Office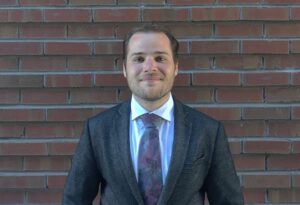 As SynchroGrid's team continues to grow, we are pleased to announce the addition of Matthew Tomasetti to our team. Matthew will be working in our Denver office as a Senior Design Engineer. Matthew comes to us with five years of experience, having specialized in designing various medium and high voltage protection schemes and standards. He holds a B.S. degree in Electrical Engineering from the University of Central Florida (UCF).
Matthew first became interested in pursuing a career in the power industry as a facility engineering intern at UCF's industrial campus. This opportunity opened the door to learning about all the complexities within the utility space behind even the simple task of turning on a light, and he "was instantly hooked." Matthew found himself constantly asking the facility's principal engineer questions about the power system beyond campus, and he enjoys the challenge of figuring out how things work.
"What set SynchroGrid apart in my eyes is the small size, leadership, and vision for the future," Matthew says. When he heard about the opportunity at the Denver office, he "instantly became excited to become a part of it."
"As we grow our Denver office to serve our expanding number of clients, we have been looking for hard-working, experienced, and talented engineers to join our team," says Steve Yanosik, V.P. of Engineering – Denver Office. "Matt was a great fit, coming to us with solid protection and control design experience and the attention to detail that is crucial for this industry. We look forward to working with him in the years ahead."
Outside of work, Matthew enjoys rock climbing, hiking, camping, and working on cars. He loves doing anything outdoors in the beautiful state of Colorado.