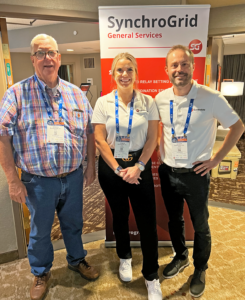 Another great TSDOS conference is in the books! We appreciate everyone who came by our suite and took the time to meet with us, and we enjoyed visiting with individuals from ASEC Engineers, Cleco, Cross Texas Transmission, EEPlus, Electrical Technologies, Garland Power & Light, HDR, Hunt Utility Services, Lower Colorado River Authority, M&S Engineering, Oklahoma Gas & Electric, Oncor Electric, Pattern Energy, Pedernales Electric Cooperative, Power Engineers, Principle Services, Rayburn Electric Cooperative, Schneider Engineering, Spark Power, TRC, and WETT.
SynchroGrid specializes in optimizing system protection and provides services to transmission, distribution, and generation utilities. Our focus is on powering a new direction in system protection by developing innovative solutions through automation and streamlined internal processes.
Our services include relay setting development, system coordination studies, protection and control design, arc flash studies, NERC compliance, and substation design.
Read more about our current projects here.